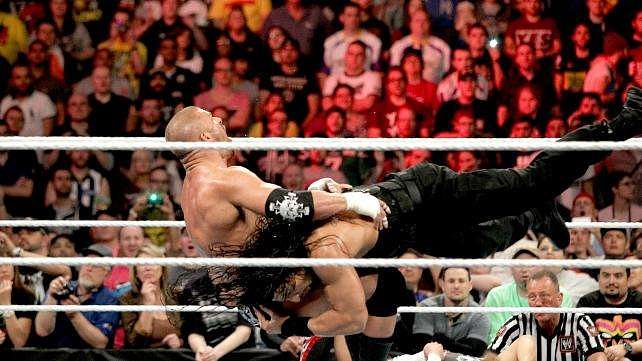 Whew! NXT Takeover and Wrestlemania might be over, but don't let your stomach settle just yet – it's time for the Raw After Wrestlemania! Dallas, TX is the place and here are your pre-show notes (Wrestlemania 32 and NXT Takeover: Dallas spoilers, obviously):
New Champs: Roman Reigns and Zack Ryder are your new champions heading into the new season. While Roman is likely to hold the belt for a while, it remains to be seen if Ryder's first IC strap is the start of a legit push or if it's more of a career achievement award.
The Future of the Authority: Kind of a split decision for the Authority last night. The Undertaker defeated Shane McMahon to keep the prodigal son from taking over Raw, but Triple H emphatically lost the belt to Roman Reigns in the main event. Let's hope Shane O'Mac stays around and maybe the Authority takes a quieter role going forward.
Monday Night Debuts: The Raw After Wrestlemania has been a hotspot for debuting talent over the past few years. Names to keep an eye on this year are Samoa Joe (lost twice to Finn Balor), Baron Corbin (still seems to have unfinished business with Austin Aries, but he did just win the Andre), Bayley (lost her belt to Asuka), Enzo Amore, Big Cass, Carmella, as well as longshots Apollo Crews, Mojo Rawley, and TMDK. Okay, maybe not TMDK.
Monday Night Returns: In addition to any NXT call-ups, injured WWE Superstars that could make a return tonight are John Cena (already back, kind of), Cesaro, and Randy Orton. Also, where the hell is Hideo Itami?
New Feuds: Hopefully we get a proper Sami Zayn/Kevin Owens singles program, plus there should be new directions for Dean Ambrose, Brock Lesnar, Chris Jericho, AJ Styles, and hopefully the League of Nations.
That's it! Enjoy what should be one of the hottest shows of the year!