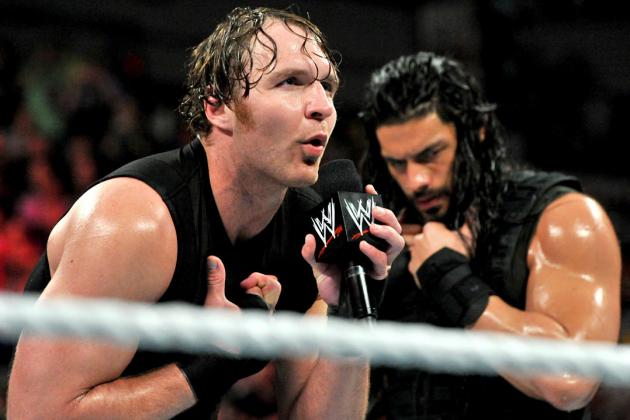 Monday Night Raw descends on the nation's capitol for another night of hard-hitting, slam-bang action! The pre-show notes:
Tag Team Main Event: In an unbelievable bout of epic proportions, tonight's presumed main event will be a tag team match (playa) featuring WWE World Heavyweight Champion and music festival villain Seth Rollins and Kane going toe-to-toe with the Shield remnants Dean Ambrose and Roman Reigns. Will there be Authority interference? Bray Wyatt interference? Maybe!
J Security: With poor Jamie sidelined after Brock Lesnar cracked three of his ribs, I'm low-key excited to see if WWE offers up a replacement for him alongside Joey Mercury. I mean, Jimmy Jacobs is RIGHT THERE! He even has the name for it! I wouldn't be mad at Tajiri either, just saying.
Mixed Tag Teams Emerging: With Summer Rae expressing some interest in a hobbled Rusev, it creates an interesting love-Star of David, with Dolph Ziggler, Lana, Fandango, and Rosa Mendes rounding out the other points. Interesting to see if this goes anywhere, especially with Rusev out of action. It's good to see WWE keeping Rusev relevant through his injury.
IC Triple Threat: With IC Champ Ryback, Big Show, and the Miz set for a triple threat title match at Battleground, this mid-card feud is getting sneaky-good. Something to keep an eye on tonight.
Four Horsewomen Siren on Hold: Okay, for once I won't be calling for the NXT ladies to invade Raw tonight. With the next "PPV" still a few weeks away, it seems unlikely that the big reveal will take place on a random-ish Monday night. I'd love to be wrong here, but check back in a few weeks for the usual hoping and wishing.
That's it! Enjoy the show and don't forget to check back tomorrow for the CDW Day After Report!