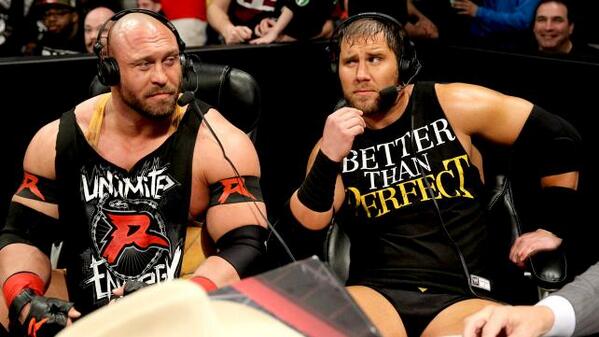 Monday Night Raw is coming to you live from St. Louis, MO! With less than a week until Extreme Rules, this episode of Raw is packed full of good stuff in anticipation of this weekend's card. Some pre-show notes:
 Tag Team Title Match: The Usos put the belts on the line against the suddenly-hot team of Ryback and Curtis Axel aka Rybaxel. It's curious that this match is going down tonight instead of this weekend at Extreme Rules, so expect some shenanigans that lead to a rematch for this Sunday.

Bad News Barrett vs. Rob Van Dam: Speaking of title matches this Sunday, the winner of the IC No. 1 Contenders' Tournament will face Big E for the IC strap at Extreme Rules. Tonight is the final match of the tournament, pitting BNB against RVD.
Evolution Still Evolving?: A curious tweet by Triple H earlier today intimated that Ric Flair would be in the building tonight, reprising his role as the learned professor of Evolution. After the Shield dispatched a sizable portion of the WWE roster twice last week, it makes sense that Triple H would need to look outside the WWE's immediate confines to deal with the Shield.
Daniel Bryan is Back: After suffering a brutal beating at the hands of a revitalized Kane last week, D-Bry has vowed to get revenge on the Big Red Monster tonight, as well as defend his title this weekend. It's worth keeping an eye on how Brie Bella is used in this feud as well as the idea that the Authority has indeed lost some control over Kane.
Wolverine is In the Building: Years removed from his run-in with Dolph Ziggler, Hugh Jackman makes his triumphant return to Raw! It seems as though he's made peace with Ziggler over Twitter, but may have stoked the ire of one Damien Sandow.
Enjoy the show tonight marks, and be sure to check back here tomorrow for the "Day After" report and all your news and analysis needs!