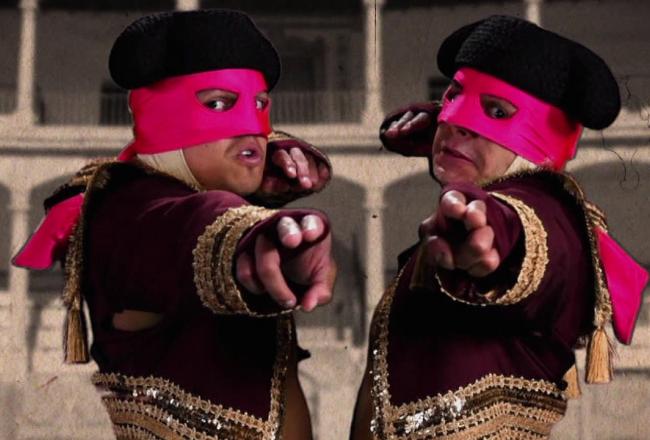 Monday Night Raw is broadcasting live from Biloxi, Mississippi! It's the final episode before Battleground this weekend, so expect the heat to get ratcheted up SEVERAL notches. Here's what's up:
Los Matadores: There is probably no better place to debut a matador-themed tag team than deep in the heart of Dixie. Rumors have been swirling around the duo since their first vignette. Is it really just a Primo/Epico repackage? Are they matadors solely to siphon the "Ole!" chants away from Sami Zayn/El Generico? Isn't everyone excited about the return of El Local? Whether you're asking these questions or not, Los Matadores will be in the building tonight to answer (some of) them.
Family Feud: After Stephanie's meeting with Dusty didn't go so well and Cody and Dustin jumped the Shield last week, Triple H is meeting with all three Rhodes men, likely setting up some kind of match at Battleground.
The Shield: Speaking of the Shield, there is really no person(s) hotter than Ambrose, Reigns, and Rollins right now. Playing the role of underdogs for the first time last Monday, the Shield somehow managed to look even more badass, eliminating 7 superstars before succumbing to the damned numbers game. Look for the Ziggler-Ambrose mini-feud to continue, as DZ picked up a DQ win over Ambrose last Friday on Smackdown.
Weapon of Sad Destruction: It was great seeing Big Show decisively knock out the Miz last week, even if it was at the behest of Stephanie McMahon. Odds are high that this ends with Big Show being forced to turn that WMD on…himself.
Raw Gets Randy: Randy Orton has been beating the hell out of dudes lately, and it's been very entertaining. Whose wig will he split next? Only time will tell.
Battleground: The big Battleground PPV is this Sunday, so while there are already a few intriguing matchups, expect the card to get fleshed out a bit tonight.
Key Players: Daniel Bryan, CM Punk, and Paul Heyman will be in the house tonight. That's reason enough to watch.
Enjoy the show tonight and as always, check back with CDW for the "Day After Report," and while you're at it, go ahead and follow us on twitter (@DukesWrestling), so you never miss a post!